The majority of PC users with Nvidia graphics cards are probably not aware that they are being tracked by Nvidia via driver/software. The Nvidia driver installation package offers some flexibility as to what will be installed, however, it does not offer an option to exclude telemetry tracking as part of the installation. Nvidia's telemetry tracking component is installed even when installing the graphics driver by itself. Nvidia's GeForce Experience FAQ states, "The application collects data needed to recommend the correct driver update and optimal settings, including hardware configuration, operating system, language, installed games, game settings, game usage, game performance, and current driver version. If a user is signed into a NVIDIA account, the data is identifiable. All data collected is protected by NVIDIA's privacy policy." If the data being collected is of any concern, there are a few way to go about disabling Nvidia telemetry.
Disable Nvidia Telemetry Startup
There are multiple methods to disable Nvidia telemetry at startup. I've listed two of these methods, screenshots included. The first method is by using the Windows Task Scheduler. The second (optional) method, is by using Sysinternals Autoruns. See screenshots for further details and instructions.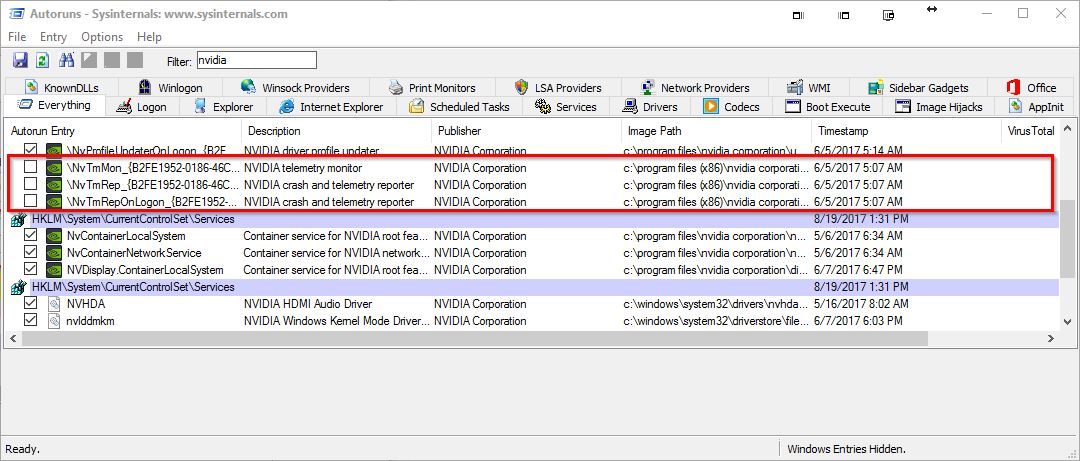 Disable Nvidia Telemetry Service
In addition to disabling Telemetry startup, the "NVIDIA Telemetry Container" service will need to be disabled as well. Ensure that the service is stopped and that the "Startup type" is set to "Disabled".

An all-in-one solution for disabling Nvidia Telemetry exists by using a program that is aptly called Disable Nvidia Telemetry. The program will automatically apply all the changes in the previous screenshots. Remember, that these steps may need to be applied again in the future if the Nvidia drivers are updated.